Filter by Category
Quick Breads
A Trio of Desserts
with Linda Scott

Next session starts Feb 8, 2019 at 5:30 pm
Amaretto Bread Pudding
Apple Butter Cake Roll
Gingerbread with a warm Caramel Sauce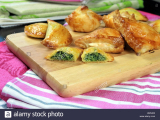 Puff Pastry Pockets
with Gail Rogers

Next session starts Feb 6, 2019 at 5:30 pm
Wow your family and friends with your own "Puff Pastry Pockets"!
They look like a dessert, taste lie a 5 star restaurant, but are easy, quick and economical (because you can use up your leftovers).
A simple green salad with Gail's secret salad dressing (everyone asks for the recipe).
Dessert is another puff pastry treat.