Filter by Category
Breakfast
Breakfast for Mother's Day
with Ashley Bird

Next session starts May 7, 2018 at 5:30 pm
Breakfast for Mother's Day! Cottage cheese pancakes, banana crunch muffins, skiers overnight French toast, and pear mimosas.
--Overnight caramel French toast, eggy cottage cheese pancakes and crumb topped banana muffins served with cinnamon pear mimosas!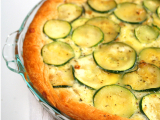 Gluten Free Zucchini Quiche
with Ashley Bird

Next session starts May 2, 2018 at 5:30 pm
Gluten Free Quiche Class: Zucchini quiche, mini salmon quiches, fruit salad, and Chai latte.
--Learn how to make gluten free pie crust, mozzarella zucchini quiche, mini smoked salmon bites, and fruit salad tossed in a banana brown sugar dressing. Served with a homemade chai latte blended with ground coffee and warm spices in a French press coffee maker.